ABOUT MARC



MARC is a multidisciplinary artistic research collective, which stimulates collaboration between artists of different disciplines through the production of topic-based interdisciplinary projects.

MARC was co-founded by musician Giuseppe Doronzo 🎷, visual artist Roman Ermolaev 🎬 and curator Michela Trovato Giancardillo 🏝. Our team aims to establish a platform where selected artists are free to express their creativity without being confined to the boundaries of a particular discipline or style. Multidisciplinary collaboration is at the core of our project as it gives an opportunity to come in contact with different artistic approaches, and to open oneself to new thinking patterns.

One of the foundations of MARC is to bridge the gap between artists and the audience by offering insights into the creative process through weekly videos 📹 shared on our online platforms.






MARC FOUNDERS

GIUSEPPE DORONZO
Giuseppe Doronzo (1987, Barletta, IT) is an Italian saxophonist and composer based in Amsterdam. Music Revelation 2018 for All About Jazz, he is considered as "
One of the most exciting fresh voices in the jazz and impro scene in the world
" (Trouw/Jazzism).
He focuses his research on the baritone saxophone, aiming to explore a vocabulary that bridges his background in contemporary classical music, jazz improvisation and micro tonal makam music. He has performed internationally with artists covering various fields of the international art scene including Michael Moore, Joe Lovano, Vince Mendoza, Mariem Hassan and Han Bennink. His composition works have been supported by the FPK and performed in international festivals and venues including the Shanghai World Music Festival, North Sea Jazz Festival, Sant'Anna Arresi Jazz Festival and the Bimhuis. Besides his music ensembles, he writes for film, dance and contemporary circus. In 2018 he founded the Amsterdam based record label Tora Records. He has been giving music workshops and lectures in several spaces and institutions together with the Conservatorium van Amsterdam (NL), New York University (US) and Marmara University of Arts (TR).
ROMAN ERMOLAEV
Roman Ermolaev (1991, Saint Petersburg, RU) graduated from the VAV Department of the Gerrit Rietveld Academie in 2017. In the same year, he won the EYE Research Lab Award for best audiovisual work at the EYE Filmmuseum. In January 2018, he received the Young Artsupport Amsterdam Award, and his graduation project Holy Land became part of the EYE Filmmuseum collection. His work has been exhibited in various galleries, institutions and Film Festivals in the Netherlands and abroad, his films have been screened in the different film festivals including IFFR. He was teaching fine art in Gerrit Rietveld Academie in 2018-2019.
Roman is a multidisciplinary artist working on the intersection of film, animation, photography and installation art often approached through the analysis of historical events and their affects on the precarious living conditions of an expats living abroad. Concerned with the shifting paradigm for a foreigner as an unstable element of the society, he aims to explore the potential for an alternative course of history. As a contemporary image maker, Roman sees it as his responsibility to scrutinise the events, images and symbols of the past and remould them into the reality orientated towards the future.
MICHELA TROVATO GIANCARDILLO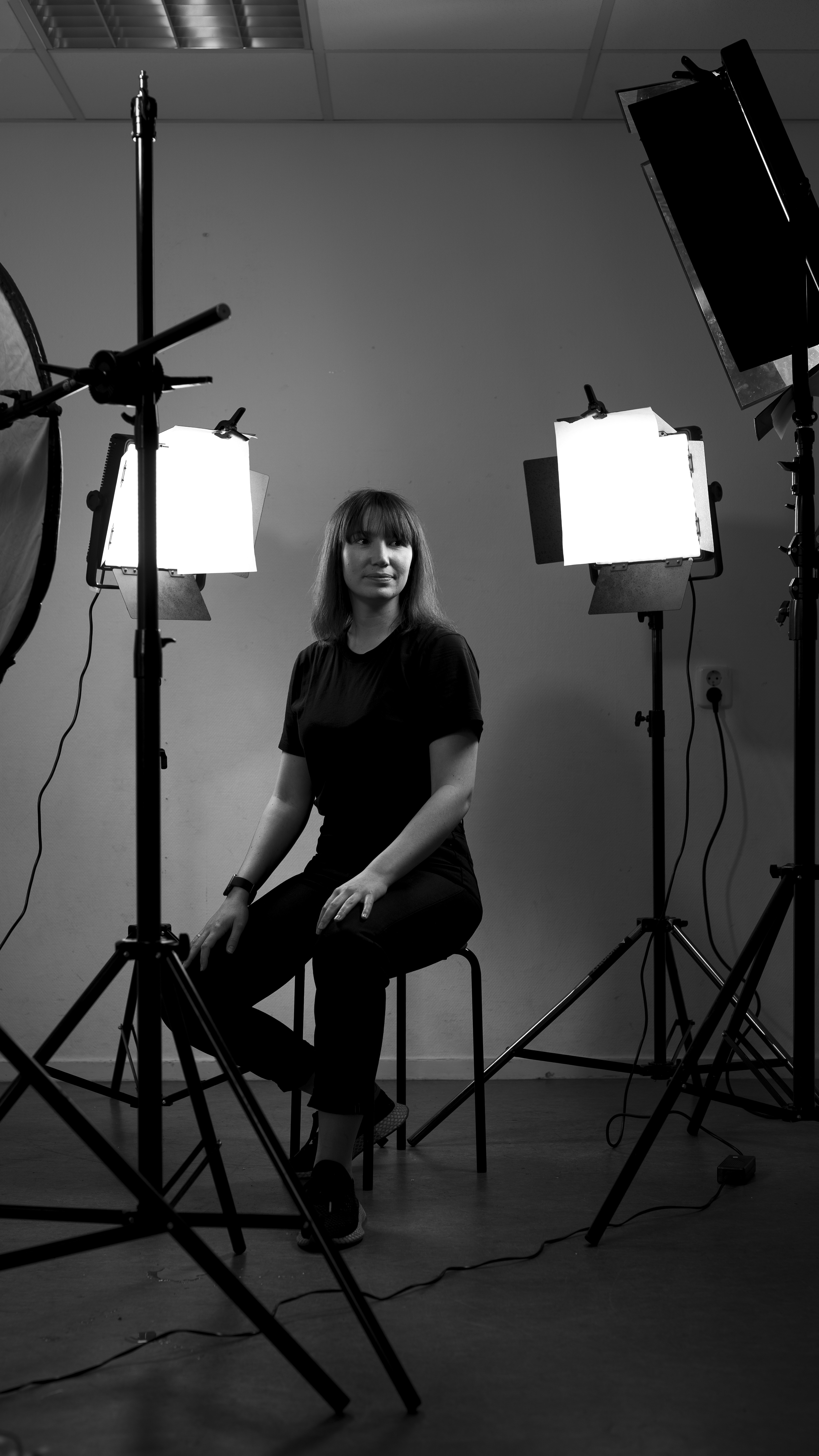 Michela Trovato Giancardillo (1992, Roma, IT) graduated in 2017 from the Master in Cultural Studies from the KU Leuven (BE), after obtaining her bachelor in History and Tutelage of the Cultural Heritage at the University of Florence (IT). From 2015 to 2019 she worked as a curator and project manager in the Artist in Residence WOW Amsterdam. During her work at WOW Amsterdam, she produced a multitude of projects that reflected the multidisciplinary character of the residency. Facilitating and producing multidisciplinary and site specific projects has been at the core of her practice for about six years.In 2019 and 2020 she worked as a project manager for Museumnacht Amsterdam, where she was in charge of the outreach programme of the stichting in order to broaden the audience of the Museumnacht event.